History of Spitfire MK IX MK923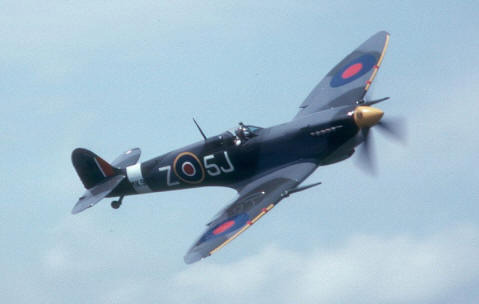 Built – March 1944 at Castle Bromwich Aircraft Factory - Birmingham UK. The first test flight was carried out by Alex Henshaw on the 18th March 1944. The aircraft received a full test flight for that day ( max climb, altitude, speed at altitude and dive ) according to his log book. It was then passed ready for collection late March 1944 . MK923 was delivered to 9MU at RAF Cosford on the 24.3.1944, where it was stored until issue to a Squadron. The first Squadron was that of 126 Squadron at Sawbridgenorth, Hertfordshire on 10.5.1944. Given code 5J-Z. The Squadron moved three times, first to Culmhead on the 22.5.1944 and again to Harrowbeer on the 3.7.1944 and finally to Bradwell Bay 30.8.1944. MK923 first action was on a sortie on May 28 1944 flown by 126 Squadron. The pilot for this was Commanding Officer Sq. Ldr. W.W.Swinden on a shipping recon to the St. Brieuc-Ile de Batz area. S/L Swinden chose this plane as his personal mount with other pilots flying in her occasionally. June 1944 saw Swinden replaced by Squadron Leader J.A.Plagis ( Rhodesian ace ) who chose ML214 as his preferred plane more so of MK923. The plane stayed active but with no specific pilot. August 14 1944 two Messerschmitt Bf 109G's were shot down by Pilot Officer Risley on Rodeo 202 South of Paris. MK923 then left 126 Squadron after squadron were relocated to Bentwaters in Suffolk 30.12.1944 and re-equipped with Mustang III during December. She was then passed onto 32MU at RAF St. Athen South Wales for a major Inspection. From there she then moved to 1C.R.U at Cowley, Oxforshire for repairs in late 1944, and with the plane back to Airworthy condition in April 1945 with the closing of the war in Europe there was no rush for any further combat / movement. Once again the plane was placed into storage with 39 MU at Colerne 11.5.45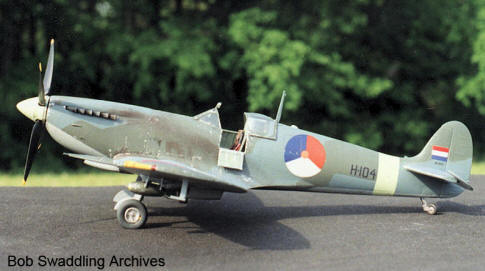 The plane was taken on charge by the Dutch Government on the 19.5.47. Flown to 47 MU at RAF Sealand- dismantled and crated for shipping. She left Tilbury docks on May 1947 aboard S.S.Rotti bound for India. From there she was transported to Kalidjati. The plane was re-assembled by an advanced party, and the first test flight was 17.11.47 piloted by Tub Brubbink. These flights were with the Serial No. H-104 complete with her Dutch National camouflage. ( This no. was given by technical staff as no official serial no. had been given ) The last two test flights were carried out on 5.12.47, then she was flown to join 322 Squadron for training flights. One or Two of the Spitfire's ( H-63 & H-104 ) flew again in combat operations on the 19th December 1947 , piloted by Harry van Gorkom. This operation was to destroy enemy radio transmitters by means of Bombing or Strafing. Later on in the conflict she was stripped of all RAF camouflage and painted green overall with light blue wings and given the serial no. H-61. MK923 was responsible for 24 Bombing mission's ( 24 bomb symbols painted on cowling ).
MK923 was sold to the Belgian Air force March 1952. From there MK923 was transferred to Fokker N.V at Schipol and given a major overhaul and test flown by Fokker 26.11.1952 by Pilot Jas Mol, as B-9 before later given the registration no. SM-37. Six more flights followed during December 1952 & January 1953. The last flight was on the 2nd February 1953 at which point she was accepted and flown to Belgium. Used by the BAF as an advanced trainer for gunnery etc.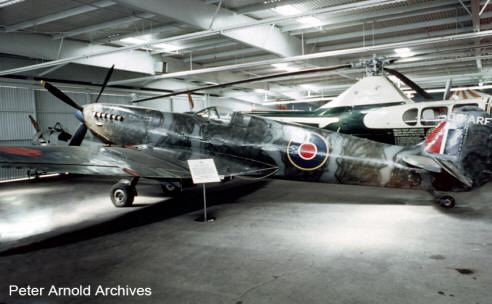 MK923 was sold to COGEA Co and given Belgian registration 00-ARF on 25-4-1958. COGEA was a civilian company based at Middlekirke Airport in Ostend , Belgium upon which COGEA were given a towing contract in conjunction with the Belgian Army. She was fitted with towing target gear under the rear fuselage and flown over many target ranges.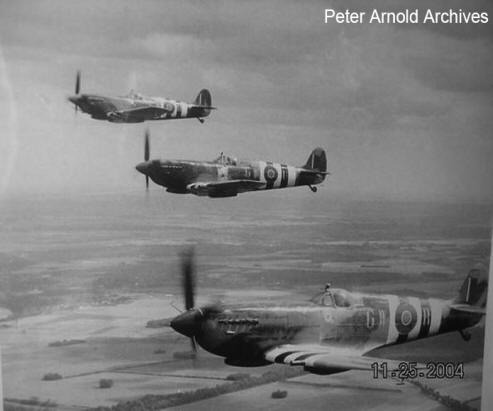 The plane was then leased along with three other Spitfire's in 1961 , for the movie " The Longest Day ". MK923, 00-ARF was painted a spurious camouflage with 340 Squadron ( Ile de France ) codes GW-U and also inaccurate wrong style lettering and oversize cross of Lorraine below the windscreen. (picture to the left shows MK923 in between MK297 farthest and MH415 closest)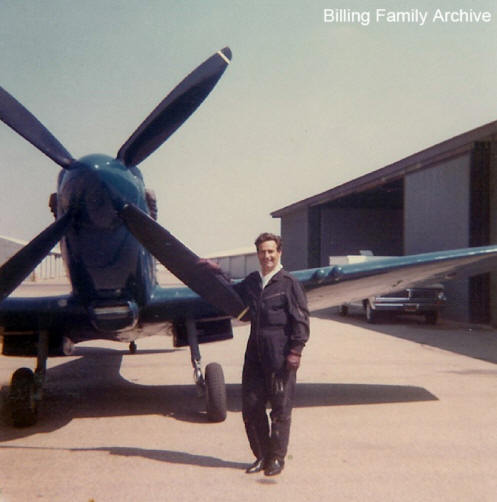 MK923 was sold in 1963 to the movie actor Cliff Robertson. The final part of her Civilian life was that she was flown from Oestend to Southend U.K by the late Neil Williams via Swanton Morley in Norfolk to Biggin Hill. The plane was again dismantled and crated for shipping by Film Aviation Services on the 7th November 1963 with a overall dark blue paint finish. The plane was shipped to Santa Anna California on 17th November 1963 on a flying Tiger Airlines Canadair CL-44. Following a full overhaul and new registration N93081( The first plane to carry a civil reg. No. in the USA ) She was finished in a overall dark blue paint . Her first test flight took place in the USA in 1964.Re-registered N512R and based at Oxnard California.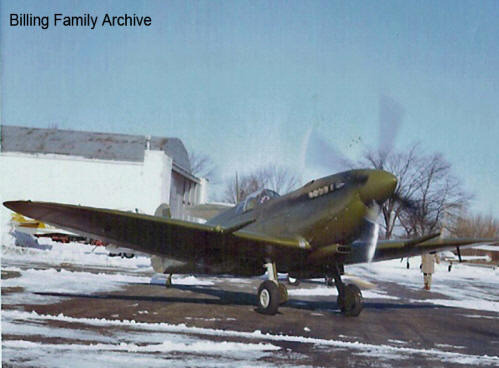 Cliff Robertson met with the only other Spitfire owner in the USA the late Bill Ross ( MK XVI- SL721) They decided to totally rebuild MK923 at the Ross facility at Dupage County Airport near Chicago Cliff wanted an expert Spitfire pilot and Ross recommended ex RCAF Spitfire pilot Jerry Billing who was piloting the late Don Plumb's TR9 TE308 ( Jerry started flying Spitfire's in Apr. 1942 and stayed current on them till Oct. 1994 – the most experienced Spitfire pilot to this day – 52 ½ years ) MK923 was test flown by Jerry Billing at Oxnard California on the 16th September 1972 it needed trimming but flew like a typical Mk IX Spitfire - beautiful. She then had a complete overhaul of airframe , new ZERO time Merlin Engine 76 fitted ( formerly the port engine from a Mosquito) and was flown to Buffalo New York for its new paint scheme.
The Spitfire was again painted incorrectly in the respect of the camouflage scheme, trying to bring her back to RAF service color's with 126 Squadron as 5J-Z in 1976. Once again the aircraft was on the move , flown back to Windsor Ontario close to Jerry's home. Jerry flew Mk923 for approximately 22.5 years at air shows around North America and Canada displaying this legendary Spitfire with the grace and skill of a true WWII fighter pilot. Jerry retired from displaying MK923 in 1994 at age 75.
MK923 was sold to a Mr. Craig McCaw in 1996 and ferried back to California by Bud Granley.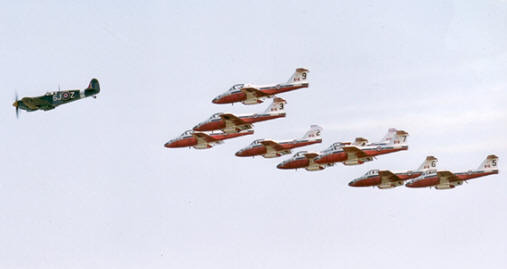 MK923 was displayed by Bud Granley at the Abbotsford Air Show in 1999 and 2000 were it lead the Canadian Forces Snowbirds into their display. ( Abbotsford 2000 could be the last public display for MK923 )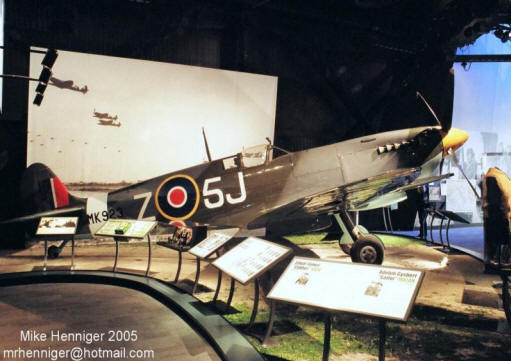 In 2000 due to loose rivets a decision was made to either re-skin MK923 or place her in a Museum for the rest of the world to see. Due to the cost , the Museum idea was brought forward and she now resides at Seattle Washington- Museum of Flight.
ANY ADDITIONAL INFO ABOUT THIS SPITFIRE WOULD BE VERY APPRECIATED FOR A FUTURE BOOK CONTACT robert.swaddling@sympatico.ca